Oxidative stress and redox biology research was well represented at this year's Society of Toxicology meeting in New Orleans.
In between meals featuring Cajun style local fish, red beans & rice, great gumbo and jambalaya dishes, attendees had the opportunity to brush up on the latest thoughts regarding redox biology and toxicology.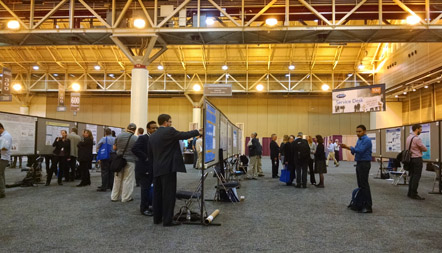 Society of Toxicology 2016
---
The meeting featured a focused symposium titled "Novel Roles of Reactive Oxygen Species (ROS) in Human Diseases: Why ROS Never Gets Stale."
According to session organizers:
"Oxidative stress mediated by reactive oxygen species (ROS) can have a profound effect on many cellular functions. The major goal of this symposium is to discuss the molecular and cellular mechanisms by which ROS, including free radicals, contribute to oxidative stress and alter various signaling pathways, which could in turn lead to inflammation and cell death in target organs, and ultimately lead to human diseases including chemically induced acute hepatitis, neurodegenerative diseases, and pulmonary diseases such as bronchopulmonary dysplasia (BPD), acute respiratory distress syndrome (ARDS), and cancer."
They went on to conclude that "The recent findings of the novel roles of oxidative stress in multiple human diseases warrant the need for a symposium to discuss the latest mechanistic research in this area and its impact on human health."
Areas of focus included the following:
"Molecular signaling pathways that selectively affect SNpc neurons, and how these studies could help unravel the mechanisms underlying selective vulnerability of these neurons in neurodegenerative diseases like Parkinson's disease (PD)"
"The role of nuclear receptors, ER stress, and oxidative stress in fatty liver disease, and how modulation of FXR activity and the related bile acid metabolism in hepatocytes might be a promising strategy to treat chemically induced acute hepatitis"
"The mechanistic role of omega-3 epoxides, which are anti-inflammatory; inhibit angiogen- esis, tumor growth, and tumor metastasis induced by TCDD; and, recent studies have suggested, may act as antioxidants"
"The molecular role of Nrf2 as master regulator against oxidative stress, its implications for multiple human diseases including cancer, and the discovery of novel small molecule nrf2 modulators to improve human health"
"The novel roles of cytochrome P450 (CYP)1A and 1B1 enzymes in hyperoxic lung injury, in relation to BPD and ARDS"
---
Also featured was a platform session on "Nrf2 in Redox Biology", a poster session "Oxidative Injury and Redox Biology", and Continuing Education opportunities related to "Advancing the Detection, Imaging, and Pitfalls in Monitoring Oxidative Stress in Health and Disease".
According to organizers of the continuing education session:
"Oxidative stress is recognized to play a role in the etiology of numerous diseases as well as in environmental exposures. Exploration of oxidative stress mechanisms is a field of ever increasing attention, both in science and in commerce. The field is maturing and there is a great effort to study and understand biomarkers at both a chemical and enzymatic molecular mechanism level. Since increases in oxidative stress are measured using biomarkers, the goal of this course is to convey the most up-to-date knowledge on biomarkers; present novel approaches and advanced methods that can be employed in  vivo to measure, predict, and even prevent oxidative stress; and to discuss the methods and pitfalls for distinguishing oxidative stress from systemic toxicities, immunotoxicities and inflammation.
Some other interesting topics specifically related to in-vitro detection of biomarkers of oxidative stress included the following presentations:
---
We were pleased with the level of interest in Oxidative Stress and Redox Biology at this year's conference and would like to thank all of the presenters, meeting organizers, and all those who stopped by our booth to discuss your research or just to say hello. With that we'll leave you with some images that convey the flavor of a New Orleans based conference and encourage you to join us at this meeting in the future!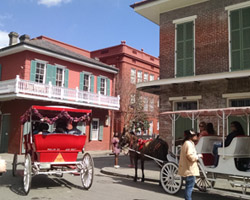 Carriage views from Lafitte's, oldest bar in America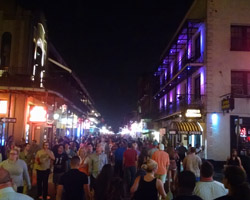 Evening crowds in French Quarter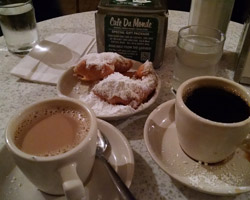 Coffee & Beignets at Cafe Du Monde
---
For additional information on the 55th Annual Meeting of Society of Toxicology in New Orleans or next year's meeting please visit http://www.toxicology.org/events/am/AM2016/.